Front page
We are Jens (73) and Michael (66) - two Danish gays in a registered relationship - living in rural surroundings between Køge, Haslev and Ringsted, about 60 km south of Copenhagen. This is our website, where as a supplement to our profiles on Facebook we will write a little about us and our interests supplemented with lots of photos, slide shows and video clips.

A photo from our copper wedding in 2017.
Originally we come from Glostrup and Lyngby respectively. Today we can not imagine living anywhere else one in the countryside. Here we have good neighbors and a great interface to the local community. .
Our leisure time has for many years been characterized by various camping trips with a caravan. For a number of years we have been staying at so-called mooring places, most recently at Fjordkroen by Præstø fjord (now closed). We have now dropped camping life in favor of tackling house, garden and fields where we have lots of projects.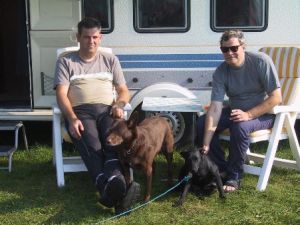 Camping trip at Byås Camping when we had the dogs Palle and Otto
The video below takes you around our property a bit.
Read more about us and our interests on this website.